Huggelig Boks Items- December 2018
Paprika Arctic Lumbar Pillow
Mudcloth Pillows
Trending now, these easy to clean cotton/linen pillows from India and Africa will transform your space with a global aesthetic. We love the way these transitional pillows fit both traditional and modern homes, making your decor pop!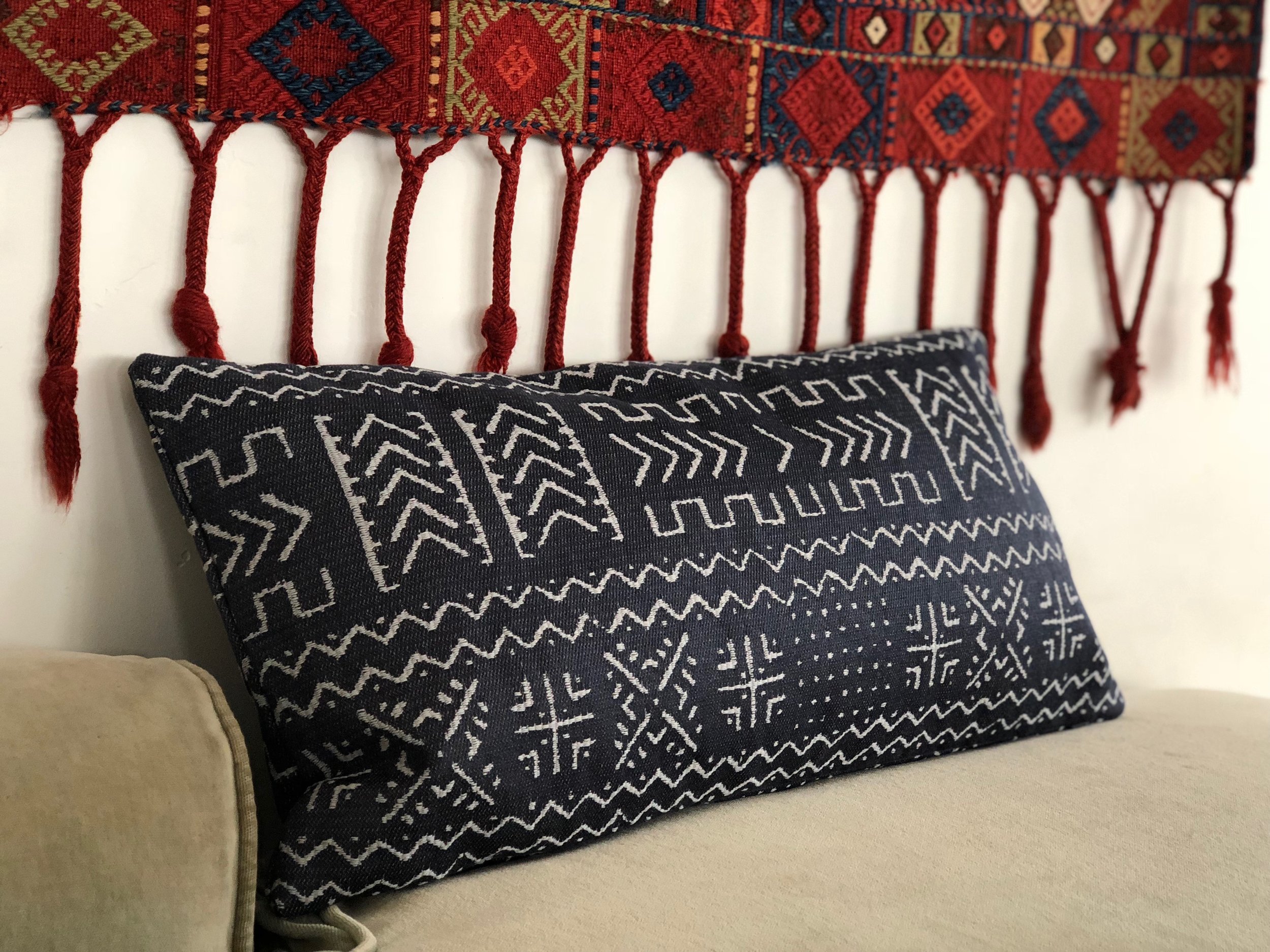 Indigo Arctic Lumbar Pillow
Lagom Ticking Lumbar Pillow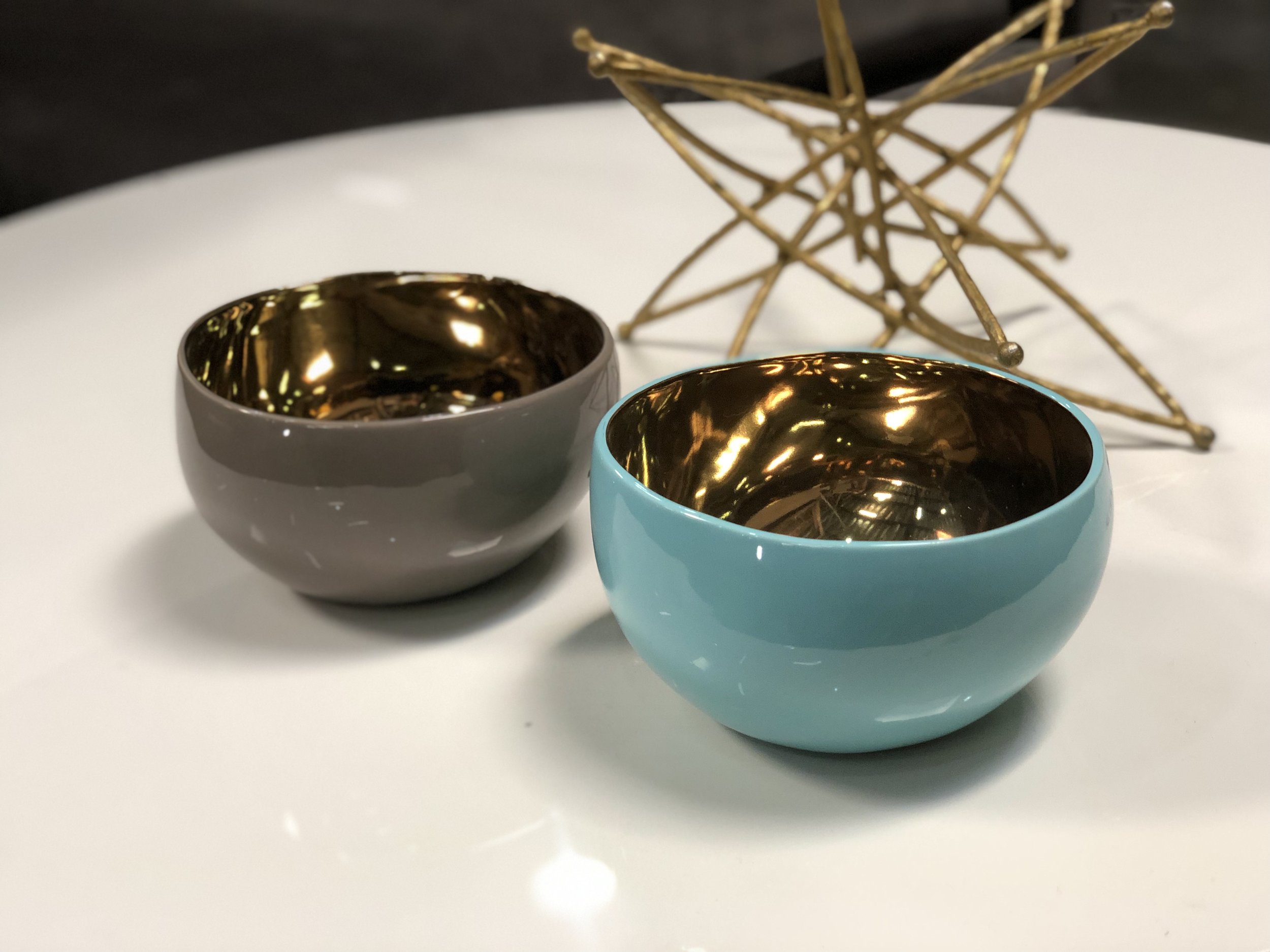 Mångata Enamel Bowl in
Smoke or Aqua
Mångata' is the Swedish word for "the trail of light left by the moon's reflection on the sea." We thought it perfectly described this handcrafted enamel bowl. In English, the word 'mångata' loosely translates to "the trail of popcorn left between the sofa cushions after binge-watching Schitt's Creek". So it's the perfect bowl for you! (Safe for food. Handwash only!)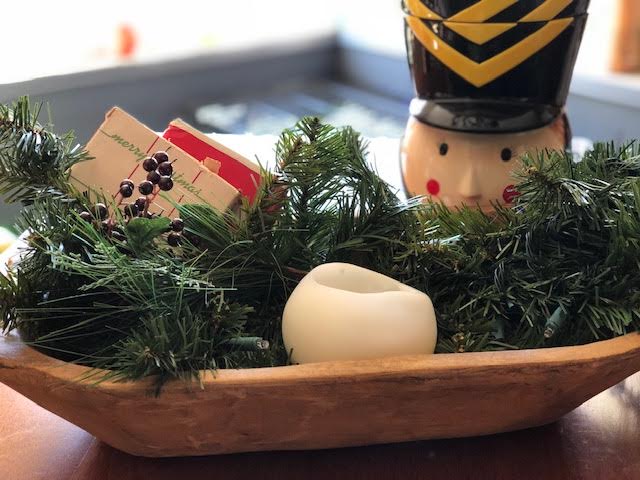 This beautfiul wooden bowl can be decked out for the Holidays holding winter greeting cards or holly. The rest of the year it can display decorative balls, mail and keys, a loaf of homemade bread, or your newborn baby.
Koballen Ornamental Balls
These wooden billiard balls will bring warmth when set on a shelf placed in a wooden bowl. Keep them on your coffee table in times of harmony, or just out of reach when your in-laws have overstayed their requisite 3 day stay.
We recently saw a field of ripe Mississippi cotton for the first time in our lives and were struck by the raw beauty of the unadorned white balls. Cotton is not just lovely it's also a way to bridge the red and blue abyss, showing that you appreciate something other than avocado toast.
"Koselig" is the Norwegian word closest to "Hygge". It's like, you know, that one night you had 10 years ago where you had 3 fantastic friends to your clean candlelit home, while carefree laughter floated over the plate of perfectly made nibbles and a delicious pinot. That night where small people weren't crying and no one thought you were irritating and your mother was in Mexico and couldn't use her phone internationally. Remember that night? Yeah, this blanket will bring it all back.
If a blanket falls in a forest, does it still scream your name? With this irresistible knit, the answer is 'yes'! Not just for snuggling anymore, throw this on the end of a bed, chair or sofa for an added layer of texture, color and warmth in any room.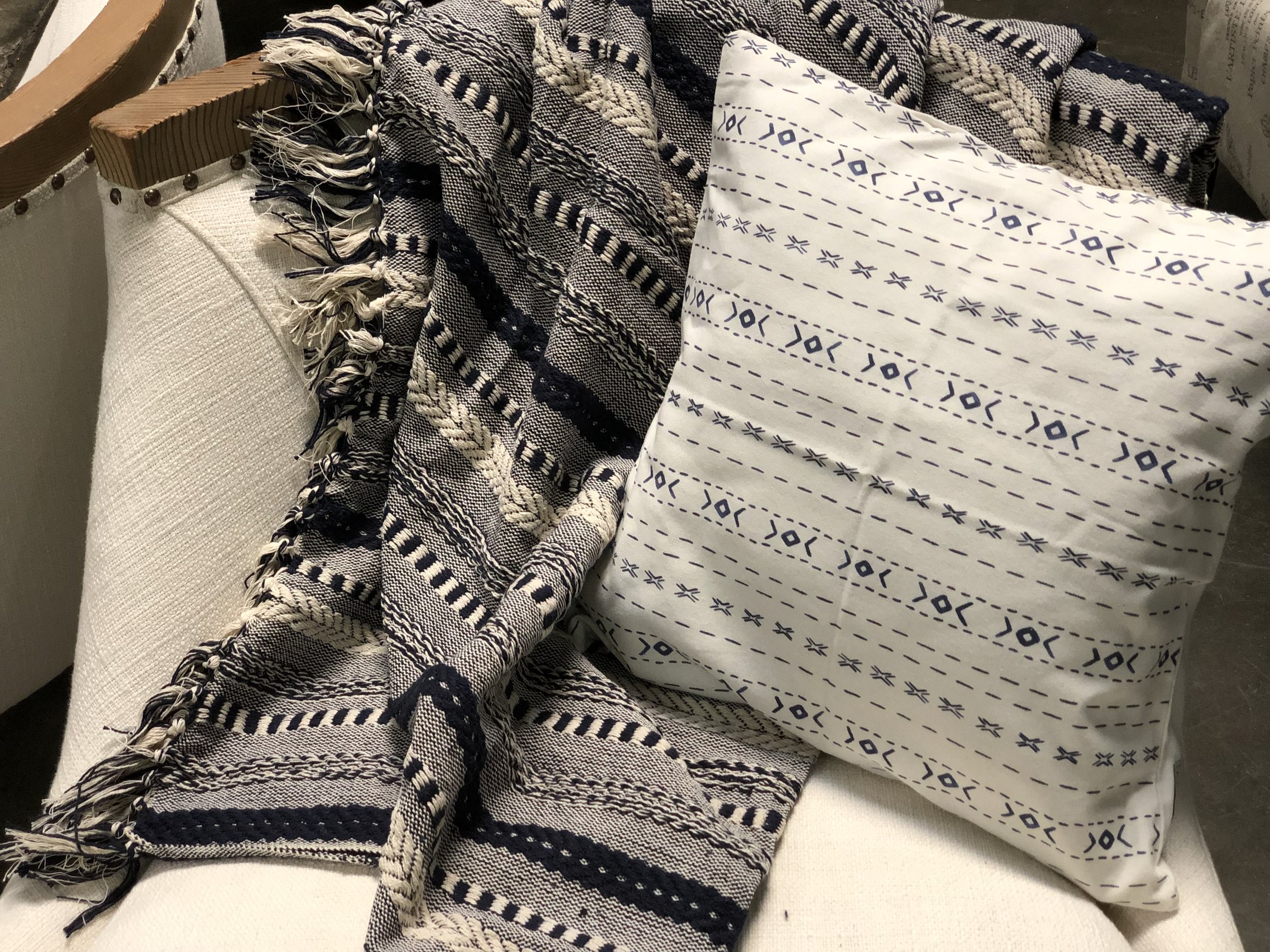 The perfect braided complement to your sofa, bed, or chair. Other uses? Wear it to dash to your hot tub! Pair it with those red heels for your company holiday party! Beautiful and utilitarian, more than you can say about your cat.
These vegetable oil candles will change your life for 16 long hours. Disguise the smell of dogs and teenage socks by bringing in the scents of Scandinavia. Have you ever heard someone complain about the way Norwegians smell? Neither have we. Mic drop.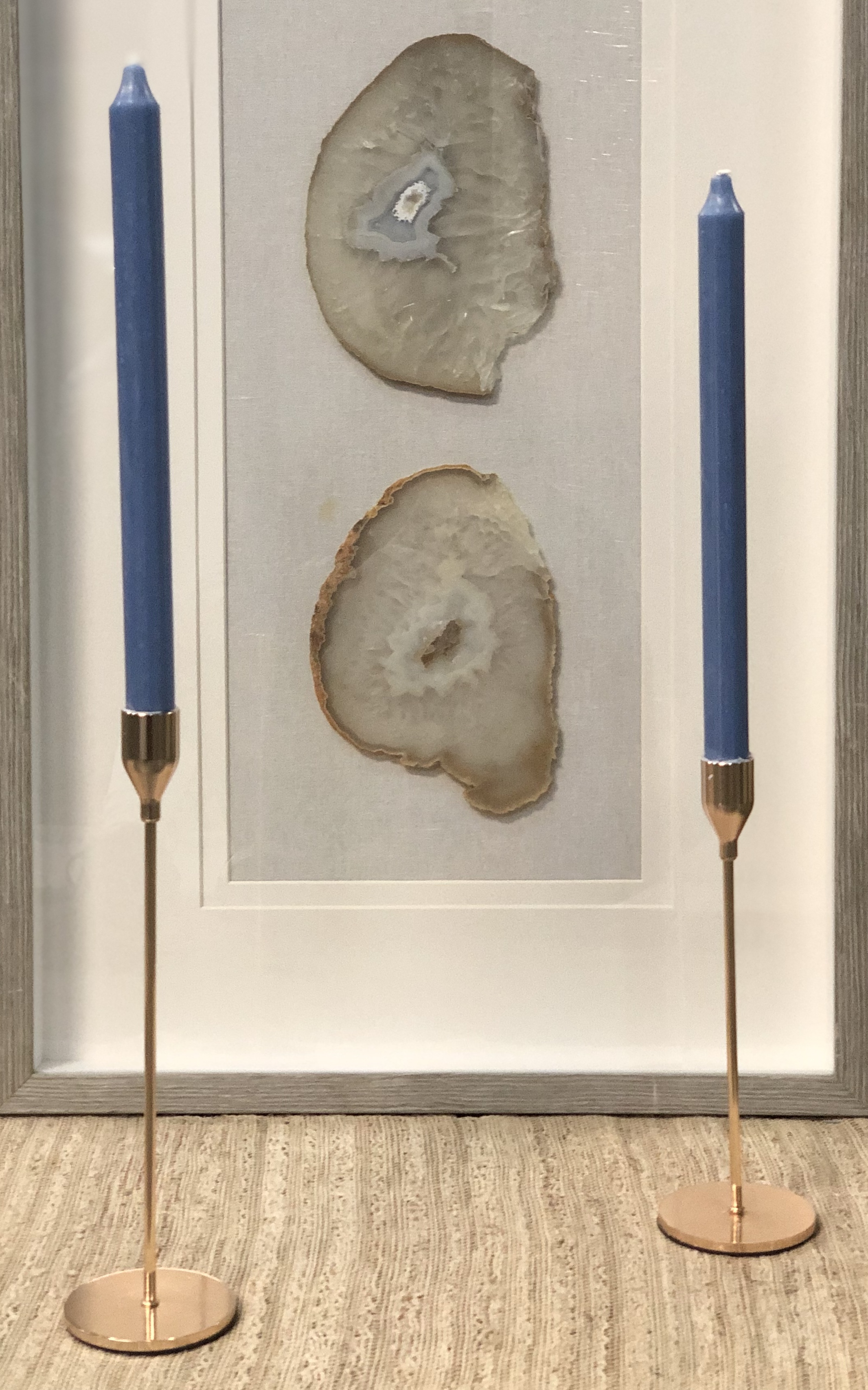 Nothing says "hygge" more than candlelight, and we've noticed you need to update your look with some sassy brass! Before you spend hundreds buying all new knobs and light fixtures, give these Danish rose gold candlesticks and non-drip handmade candles a try. Little things like introducing brass on your table, mantel or bath let your guests know you are hipper than they are. We said it.
A dog, a bunny and a giraffe walked into a bar… so you put them in your pocket and brought them home! Bring a bit of utilitarian whimsy to your bookshelf or table top with these wrought iron creatures. Ask them to hold your rings while you bake bread or perform open heart surgery. Adorable and dependable, just like your REAL dog, bunny and giraffe!
Old MacDonald had a farm, e-i-e-i-oh… but the industrious farmer had a side hustle making carvings of his beloved barnyard animals. Eventually, he had a full time gig bringing oderless charm to kitchens, bookshelves, and gender neutral manger scenes. Find an adorable spot for them to graze in your home.
Stjerne Wall Art or Table Art
Bring shimmer to your wall, coffee table and bookshelves every day of the year with this metal starburst set. A little glam, a little wow, and a little painful if you accidentally mistake them for a massage roller...wait, maybe we're onto something!
Festoon your front door with an "Oh, Oh, Oh" this winter season! This high-quality wreath is made to be a permanent part of your decorating arsenal. Front door? ✔ Hallway or mantel? ✔ Aromatic pillow for your weary bottom? ✔ Dress it up for the winter holidays with winter berries then transition to Valentine's Day with hearts and work- out reminders.